Services offered 24/7 across Durban
Being an experienced locksmiths, we are able to offer our services to residents and business owners within the entire Durban Area and its suburbs. This of course includes our 24 Hour Emergency Locksmith service.
Since we started 30 years ago, we have continually expanded our coverage areas as well as the services we provide. All of our locksmiths are born and bred in Durban and as a result, they are local experts. From knowing the best route to your location to avoiding traffic during rush hour, you can rest assured that we will get to you on time with no false promises – we pride ourselves on a speedy, efficient and reliable service.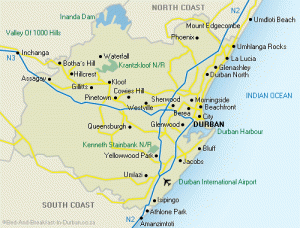 We cover the core areas of Durban including Durban, Umhlanga, Beach Front and all around in Kwazulu Natal. Wherever you are and whatever your requirements, give us a call today on 031 100 1918 to discuss your issues further. For more information on the areas we deal with, please select your suburb below.
For further information and exact locations of our vast coverage area, please select from the core regions below, or please feel free to call us if your enquiry is more specific
We offer the comprehensive range of our services to all of the core locations above and the surrounding suburbs. No matter where you are in Durban, you can be sure we have the local experts required to get to your destination fast, carry out the job with skill and precision and guarantee that you wont be disappointed. For more information on our services or the areas covered by our locksmiths, call us now on 031 100 1918